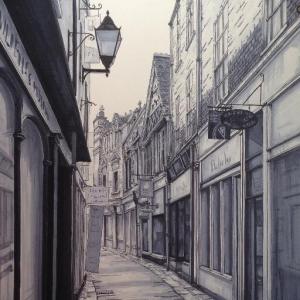 For my long awaited second press release I would like to introduce you to an artist who amazes me with every piece of art she creates!

The detail in her work holds no boundary! You can easily say that every sketch she does is completely mesmerising!

She is based in Cornwall, taking her inspiration from the beautiful Cornish surroundings

Here are a few words taken from the artists wesite...


"Architecture and history have always inspired me to paint and draw.
I love to portray modern views, but ones which have a real sense of history about them. I often draw tonally to give my images a feel of age and mystery, like old photographs.
I like to use perspective in my work to cause the viewer to "fall into" the scene I've created so they feel a part of the picture themselves."


Take a look at her website and see for yourself how she doesnt fail to deliver!

"Fall into" her work and be amazed!

Fugly Manor Art...